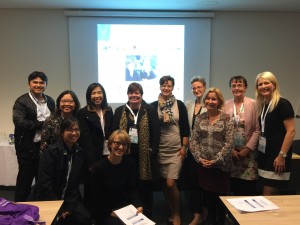 During the annual ESPEN Congress (17-20 September) in Copenhagen, the PG-SGA/Pt-Global Platform organized a meeting with the various PG-SGA language networks from all over the world, to further facilitate and stimulate the collaborative work on the translation and cultural adaptation of both the PG-SGA© and the Pt-Global app© to multiple languages.
In this meeting, with 21 attendees from 14 different countries (Australia, Belgium, Brazil, France, Germany, Indonesia, Italy, Norway, Poland, Portugal, Sweden, Thailand, The Netherlands, United States of America), the concept of translation and cultural adaptation process of the PG-SGA to other cultural settings, based on the ISPOR Principles (Wild et al., 2005) was explained. The various language groups enthusiastically presented the status of their project, which was followed by an FAQ session.
We will keep you posted on the launch of new language versions of the PG-SGA! Are you interested in working with us on a specific language version of the PG-SGA? Don't hesitate to contact us!
Would you like to see more pictures from ESPEN 2016? Visit the PG-SGA/Pt-Global Platform Facebook page!