PG-SGA/Pt-Global Platform
Setting the standard of nutritional assessment
The Scored Patient-Generated Subjective Global Assessment (PG-SGA©) sets the standard of nutritional assessment. The PG-SGA© is the preeminent interdisciplinary patient assessment (weight, intake, symptoms, functional status, disease state, metabolic stress and nutritional physical examination) in oncology and other chronic catabolic conditions. For 20 years, the PG-SGA© is used internationally and has entered the digital world in 2014.
The PG-SGA© enables the patient and professional to quickly and easily, but systematically assess and monitor (risk for) malnutrition and to evaluate effects of interventions. Moreover, the PG-SGA score triages for proactive (nutritional) intervention.

The Pt-Global app©
The PG-SGA© has entered the digital world
The Pt-Global app© currently targets professional use, with the intent that the patient can complete the patient part independently in the clinical or research setting.
► Easy and systematic screening
► Consistent scoring and use of validated translations
► New features in the future
Available on iOS, Android & Windows Phone.
It is also possible to use the Pt-Global app© in your webbrowser.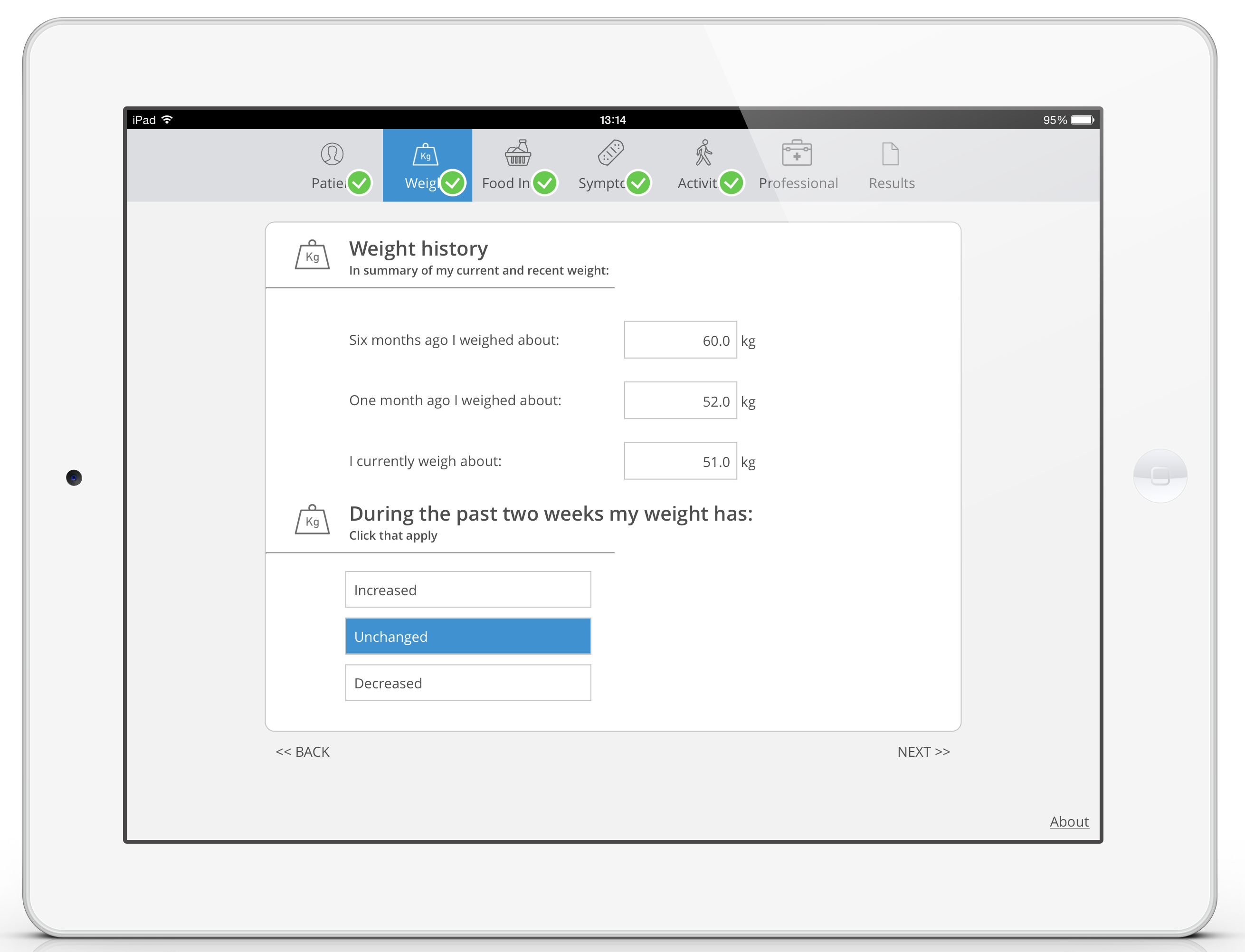 Latest news
Read about the latest developments
Want to read more news about the PG-SGA© and Pt-Global app©? Connect with us on Twitter, Facebook, and Instagram!
Uncategorized
In Memoriam - Ad de Bruine

We were deeply saddened to learn about the recent death of Ad de Bruine, who passed away on April 4, 2017 after a cancer recurrence diagnosed in 2016. As cancer survivor, patient educator, and former Chairman of the NSvG, the Dutch Association for Laryngectomees, Ad was a very dedicated and professional patient advocate. In the past few years, we, […]
Portuguese efforts to fight malnutrition highlighted in newspaper

The activities of the Portuguese PEN Society, i.e. Associação Portuguesa de Nutrição Entérica e Parentérica (APNEP), on their fight against malnutrition are recently highlighted in the Portuguese newspaper Público. You can read the full supplement on malnutrition, including articles on the ANUMEDI study and the PG-SGA, here.
Portuguese PEN Society (APNEP) partners with PG-SGA/Pt-Global Platform in research

  The Internal Medicine Task Force of the Portuguese PEN Society, i.e. Associação Portuguesa de Nutrição Entérica E Parentérica (APNEP), is partnering with the PG-SGA/Pt-Global Platform in research. In the first half of 2017, a multicenter, cross-sectional study, i.e. the ANUMEDI study, will be performed. The study aims to assess prevalence of malnutrition and malnutrition […]