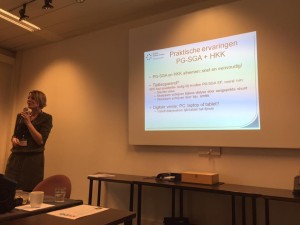 On 9 April 2016, Leonie de Wit, dietitian in Maxima Medisch Centrum shared her experiences with the PG-SGA in patients undergoing hemodialysis at the Dutch Dietitian Congress. Leonie concluded that "the PG-SGA is feasible and valuable in this patient population; the PG-SGA is a helpful instrument in the context of motivational interviewing".
You can view more pictures on the Pt-Global Facebook page.
Read a summary of the session here.