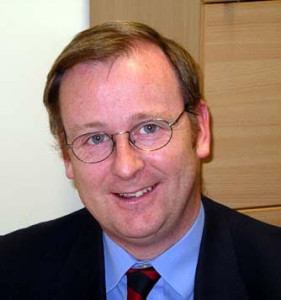 An important member of the Nutritional Oncology Community will be missing from the ESPEN 2016 meeting in Copenhagen. We were deeply saddened when we recently learned of the death of Ken Fearon – professor, surgeon, prolific researcher, and dear friend.
As I write this I have many previous flashbacks of time spent with Ken, his colleagues, his family, and friends. While cachexia, a dominant component of his practice and research, is a devastating and ugly metabolic condition, every time he said the word "cachexia" in his remarkable accent, there was somehow a beauty to the word — and to his commitment to its understanding, its prevention, and its treatment.
Ken brought both a stellar mind and heart to Nutritional Oncology and to his patients. Professor Fearon was Professor of Surgical Oncology, Colorectal Unit, Western General Hospital, Edinburgh University, Scotland. As of August 2016, Ken had published nearly 300 articles, with the earliest in 1983 regarding the risks of biliary surgery, his first of several with Professor Michael Tisdale in 1985 (https://www.research.ed.ac.uk/portal/en/persons/kenneth-fearon(5ca0116a-8d96-41b2-a20f-2b17740142f4)/publications.html ).
A brief summary of the qualifications, appointments and activities of this remarkable man include the following:
– Bachelor of Medicine and Bachelor of Surgery (MBBCh Hons), University of Glasgow, 1982
– Doctor of Medicine (MD), University of Glasgow, 1986
– Fellow Royal College of Physicians and Surgeons (FRCPS), Glasgow, 1988
– Fellow Royal College of Surgeons (FRCS), Edinburgh ad eundem, 1996
– Fellow Royal College of Surgeons (FRCS), England ad eundem, 1997
– Professor of Surgical Oncology, Edinburgh University 1989 – present and Consultant Surgeon since 1993
– Author of 120 peer reviewed publications on aspects of Human Nutrition, Surgical Metabolism and Nutritional Oncology
– CRC Research Fellow, Department of Medical Oncology 1982 – 1986 Cuthbertson Medal, Nutrition Society 1991
– Examiner Intercollegiate Specialty Board in General Surgery
– Member of Royal College of Surgeons of Edinburgh Research Board
– Member National Cancer Research Institute (CRI) Palliative Care Cachexia Sub-Group
– Member Scottish Home Total Parenteral Nutrition (TPN) Managed clinical Network (MCN) Executive Committee
– President International Association for Surgical Nutrition and Metabolism
– Undergraduate career in Glasgow University with award of Brunton Memorial Prize and MBChB with Honours (Glasgow) and Surgery/Surgical Oncology (Glasgow and Edinburgh)
Every one of the thousands of people who have heard Ken teach or lecture, as well as his patients, his colleagues, his friends, and his family have been touched by Ken's warmth, his commitment, his mind and his heart. We invite everyone who has been so touched to take the time to remember all that he has taught us, all he has added to the depth and breadth of our knowledge of nutritional oncology and cachexia, and, importantly, all the ways he helped make this a better world.
Ken, you are truly missed… Faith