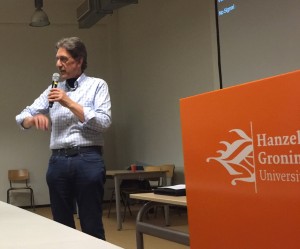 We were deeply saddened to learn about the recent death of Ad de Bruine, who passed away on April 4, 2017 after a cancer recurrence diagnosed in 2016. As cancer survivor, patient educator, and former Chairman of the NSvG, the Dutch Association for Laryngectomees, Ad was a very dedicated and professional patient advocate.
In the past few years, we, i.e. the PG-SGA/Pt-Global Platform, have worked together with Ad in a very collaborative and enjoyable way – such as in the PG-SGA training courses throughout The Netherlands. In his lectures, Ad showed his dedication to patient-centric (nutrition) care, which inspired many (future) healthcare professionals. In his personal and vigorous way, Ad showed healthcare professionals that a more patient-driven approach is needed for the prevention and treatment of malnutrition, for which we are very grateful to Ad.
Our thoughts and condolences go out to Ad's family, friends and acquaintances, and we wish them strength and warm memories.
– The PG-SGA/Pt-Global Platform Team
On a personal note, I would like to add the following additional heartfelt comment:
Ad was a very unique person …. Our collaboration goes back for many years. When I worked as a dietitian he invited me to contribute to one of his books he has written and of course it was a great pleasure working with him on that.
And Ad also enthusiastically featured in the video that was made for my inauguration, that we later shortened into a video specific on the Pt-Global app: https://www.youtube.com/watch?v=N7bXOQ0d5nc&list=PL9msSN6ciPgMfaG2yp0Tg-8RTBhEWLqI3&index=1
– Harriët Jager-Wittenaar